##
Licensing Available
- join us in the quest to re-invent the license plate frame!
Apply Now
to manufacture and/or distribute the LP Halo design!! ##
Licensing Information!
Reinvent the license plate frame with us!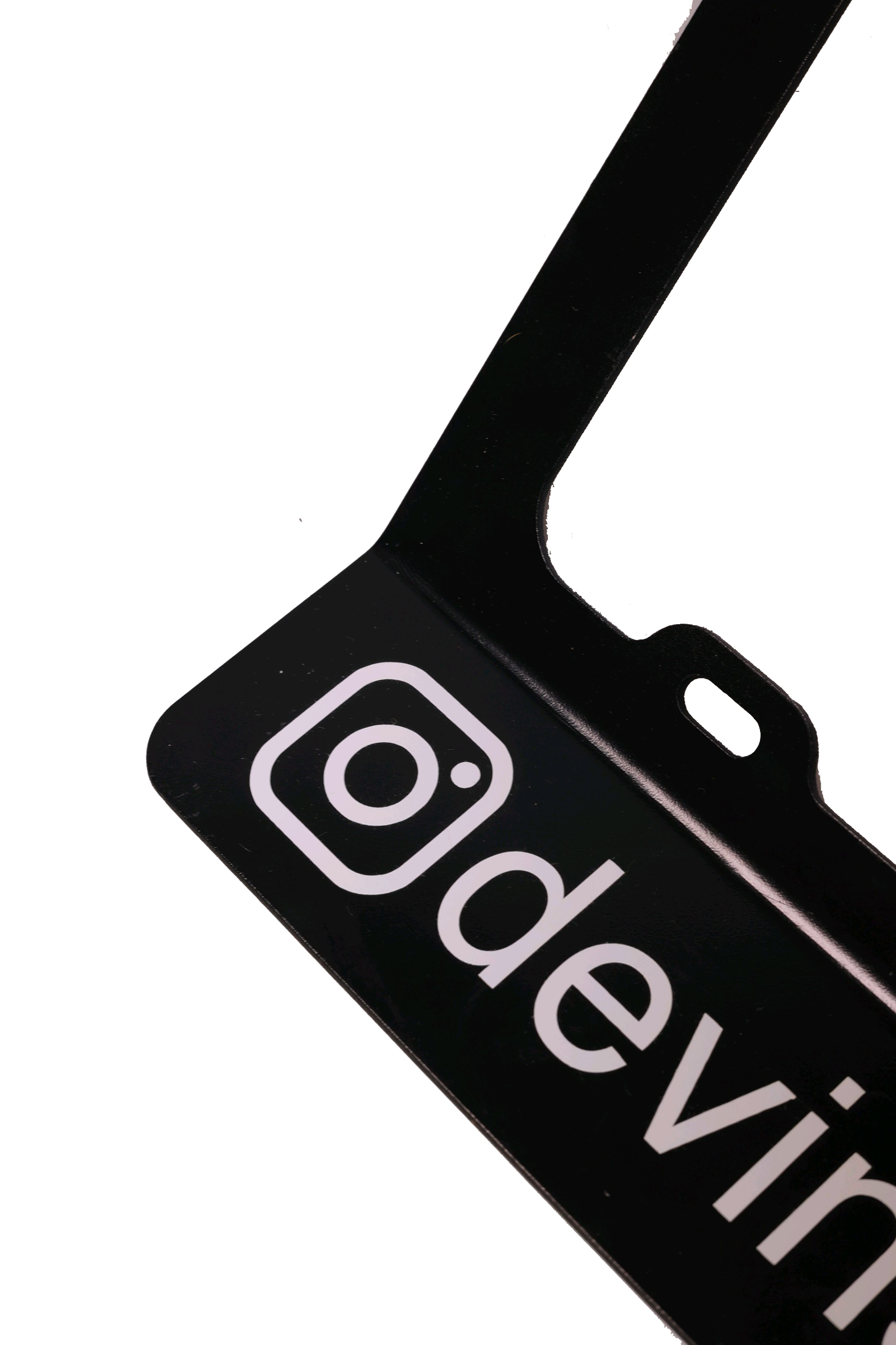 The LP Halo (LPH) Patent Pending design is available for immediate non-exclusive licensing. Any individual, organization or company wishing to use the name, invention design, or identifying marks of the LP Halo must obtain a license. This includes manufacturers or service providers who use the LP Halo name or logo on products (including premiums for promotions) or in advertising.
How It Works. The pre-qualification process requires businesses to submit certain information about the company for review by LPH. The pre-qualification process is the first stage of a licensing process that involves several stages. If the information submited on the company matches the criteria for the LPH licensing program established by LPH (which criteria may change from time to time), we will contact the business about the possibility of that company licensing the LP Halo Marks; however any such license would be the subject of a separate written agreement between said company and LPH. Neither our request for information nor the reply to the request for information constitutes an offer to contract or a solicitation by LPH to offer a contract to said company.

Minimum Requirements. In order for your unsolicited proposal to be considered for the LPH licensing program, a company MUST:


Have a minimum of three years of experience in manufacturing and distribution;
Be a manufacturer, NOT solely a middleman or distributor;
Have the ability to pay 100% of minimum royalty guarantee upon execution of a license agreement (typically about $10,000 per year) and be able to generate sales sufficient to meet the minimum royalty guarantee on a yearly basis;
Maintain from a licensed and admitted insurance carrier with a rating not less than A-VII from an A.M. Best rated insurance company a Comprehensive Commercial General Liability policy in an amount of Fifty Thousand Dollars ($50,000.00) per occurrence and One Hundred Thousand Dollars ($100,000.00) in the aggregate; and
Be in compliance with all federal, state and local laws and, where applicable, international rules and regulations, including all applicable labor laws.

Information Required for Pre-Qualification. A company will be required to submit the following pre-qualification information:
A completed pre-qualification information form, which includes detailed information about the company and its officers, financial information, and experience, as well as a detailed business plan and other information about the proposed use of the LP Halo Marks;
Two years of audited financial statements and/or two years of company tax returns;
An annual report;
Product catalog or sell sheets; and
A credit reference from a financial institution.
Prohibited Content. Your pre-qualification information should NOT include any confidential or proprietary creative ideas or products. If it does, LPH's review of the pre-qualification materials will terminate immediately, and the company will be disqualified from participation in the LPH licensing program. Accordingly, when information about the company is sent to us, do NOT include confidential or proprietary information, such as product concepts, designs, ideas, original artwork, or other original creative materials or suggestions. This is necessary to prevent possible future misunderstandings when products developed by our own employees or licensees might seem to others to be similar to their own creative work. The company acknowledges and agrees that LPH at all times has many products and projects in various stages of development, and that the results of these endeavors may be similar or identical to the company products or projects. You further acknowledge that no confidential relationship is established by the submission of the pre-qualification information to LPH. It is understood that it is entirely up to the company what information or material disclosed to LPH, and the company agrees that LPH shall have the right to assume that any information or material presented in connection with the pre-qualification information (whether or not in writing) is not subject to any confidentiality or other restriction.

If a company ignores the LPH's policy and submits any creative suggestions, ideas, notes, drawings, concepts, designs or other information (collectively "Unsolicited Submissions"), the company hereby assigns to LPH all rights of every nature and description, in perpetuity, throughout the world, in such Unsolicited Submissions. The Unsolicited Submissions shall be deemed, and shall remain, the sole property of LPH. None of the Unsolicited Submissions shall be subject to any obligation of confidence on LPH's part and LPH shall not be liable for any use or disclosure of any Unsolicited Submissions. Without limitation of the foregoing, LPH shall exclusively own all now-known and hereafter existing rights to the Unsolicited Submissions for any purpose whatsoever, commercial or otherwise, without compensation of any kind to the provider of the Unsolicited Submissions.


Submission of Information. It is important that a company follow the procedures outlined above. Once the pre-qualification form is completed, please mail it and all other requested information to LPH New Products Department, P.O. Box 526 Rolesville, NC 27571. Please note that we do not accept any fax or email submissions. If the information submited on the company matches the criteria for the LPH licensing program established by LPH, a response will be delivered from LPH within 90 days. Please do not contact us as to the status of the review of the pre-qualification information. If a company does not hear from us within 90 days, please be advised that the company has not met the criteria for the LPH licensing program established by LPH.
Risk of E-mail Communications. You acknowledge and agree that e-mail is inherently not a secure method of communication, that third parties may access information sent by you to the LPH by e-mail, that LPH makes no representations about the security of information sent by you to LPH, and that LPH will not be liable for any disclosure to or subsequent use by third parties of confidential or other information sent by you to LPH.
Limitations and Restrictions. All information in the online pre-qualification form must be filled in as directed. The company understands that a failure to comply with this requirement is grounds for disqualification. Nothing contained in these Terms and Conditions is intended to limit LPH's sole and complete discretion to accept or reject any licensing proposal. Providing the information requested by LPH in no way implies or guarantees that the company will be granted any rights to use or otherwise license any NFL Marks.
Agreement to Terms and Conditions
In order to participate in LPH's pre-qualification program, the Terms and Conditions described above must be accepted. We suggest the company print out a copy of these Terms and Conditions and keep them for their records. By clicking on the "I Agree" button below, the company confirms that it has read the Terms and Conditions above and agree to such Terms and Conditions on behalf of the company submitting the information.
For more information, contact the LP Halo Licensing Office.

LP Halo, LLC
Branding and Licensing
P.O. Box 526
Rolesville, NC 27571
815-715-6003
licensing@lphalo.com